The family is sad to announce the passing of Ron West, lead singer, songwriter for rock group "Missouri." He was our father, our husband, our brother and our friend.
Movin' On…
Ron (Hodgden) West is known for his success as a songwriter and touring musician with his rock 'n' roll group, Missouri, and for the band's most famous song, Movin' On. Still, Kansas City locals will recall his early music career with The Chesmann, when he and his brothers Gary and Stephen performed almost exclusively Beatles music for thousands of teenagers across the Midwest in the 1960s and 1970s. With the first album release of Missouri, … (continued)

"Movin' On" Video
The song, "Movin' On," is the classic travelin' man's anthem recalling the ten years 1964–1974 in which Ron West experienced life on the road gigging with his brothers and performing every weekend with The Chesmann. Thirty some years after its initial release in 1977, "Movin' On," continues to receive airplay. Grab your wheels and take off on a highway road trip to Missouri right now: just click, sit back and enjoy the ride...

Missouri: Movin' On the Road

Missouri's debut album, "Missouri," was released in August 1977.
The album cover, shown above, depicts the St. Louis' Gateway Arch, "Gateway to the West," superimposed over a scene of Monument Valley in north-eastern Arizona, a concept that was West's idea.
A month after its release, the album was listed on "Billboard's Recommended Album" page. As the album received massive airplay on Midwest radio, Missouri embarked upon a concert tour. "Missouri" performed across the nation and provided warm-up at large venue gigs, stadium shows and tours. Where the band was well known and had solid air play, "Missouri" would headline. Missouri toured with national acts such as Ted Nugent, Golden Earring, Scorpions, Blackfoot, Sammy Hagar, Nazareth, Molly Hatchet, REO Speedwagon, Blackfoot, Rush, Blue Oyster Cult, Van Halen, Jefferson Starship, just to name a few.

Missouri soon signed with Polydor records and released its second album entitled "Welcome to Missouri," in 1979. The group continued touring until 1984. While the second album's sales figures were impressive, the record industry and musical tastes were changing. Polydor Records did not renew Missouri's option to record another album. VNR records later released and distributed "The Best of Missouri" CD. Read more about rock group Missouri...

The Chesmann Inducted into the Kansas Music Hall of Fame

In 2005, Ron West and his brothers, as The Chesmann, were inducted into the Kansas Music Hall of Fame as its first inaugural class of honorees along with Big Joe Turner, Kansas, Mike Finnigan, Brewer & Shipley, the Blue Things, the Fabulous Flippers, Rodney & the Blazers and the Red Dogs. The Chesmann performed that evening with a line up that included Ron West, Gary West, Stephan West, Jim McAllister and Alan Blasco. It was a most memorable rock n' roll reunion for friends and families.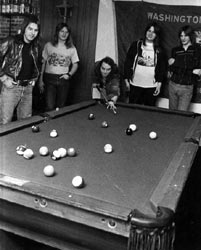 "Missouri" first performed in St. Louis in 1977 with the original band members Ron West, Lane Turner, Randall Platt, Bill Larson and Alan Cohen.

Missouri's second album "Welcome to Missouri" credits Randall Platt, Ron West, Alan Cohen, Webb Waterman and Dan Billings